2.3 Clinical Trial Matching
"Tempus provides an unparalleled level of commitment and support in aligning all involved parties and streamlining the process, especially given the challenges of the COVID-19 pandemic. We ultimately met our target goal of activating our trial in just two weeks"
Dr. Julio Peguero, Director of Research, Oncology Consultants
Precision medicine has changed the clinical research landscape
50+ unique clinical trials targeting a wide array of biomarkers including FGFR, KEAP1, RET, NOTCH1, ESR1, and MET.
Smart trial matching
Each patient's sequenced molecular data and clinical history are compared against each trial's structured inclusion and exclusion criteria through our proprietary trial matching software and methods.
Rapid site activation
Tempus utilizes a standardized contract, rate card, feasibility process, informed consent form (ICF), and a central IRB along with a team of dedicated research liaisons to streamline activities for study start-up.
Site activated in an average of 9 days.
1,500+
Active oncologists
77%
Tempus patients match
to a biomarker trial
5,000
patients were identified
for potential clinical trials
in our network
TRIAL MATCHING ALGORITHM
A new precision medicine approach to clinical trials
Tempus generates, organizes, and analyzes extensive amounts of data through our next-generation sequencing lab, AI-assisted clinical data structuring capabilities, and connectivity with researchers across the network. We support providers in identifying relevant and actionable clinical trials for their patients.
Our proprietary clinical trial matching software enables real-time matches for relevant, open, and recruiting clinical trials. Tempus' team of trained abstractors manually reviews all protocol-specific inclusion and exclusion eligibility criteria for trials in the TIME Trial Program.
RAPID SITE ACTIVATION
Bringing the right clinical trial to the right patient in days instead of months
The program is designed to provide access to thousands of physicians and patients to clinical trials and novel therapeutics, no matter where they are.
All sites and sponsors participating in the TIME Trial Program commit to a standard clinical trial agreement, a pre-negotiated budget, and the use of a central IRB. Additionally, Tempus' dedicated, expert research liaisons support sites and sponsors in streamlining all recruitment and enrollment activities
The entire activation process is designed to take 9 business days, and the site always makes the decision about particular studies for involvement.
Patient Identified
Day 0 Site notified of eligible patient
Day 3 Contract signed by site and sponsor
Day 7 IRB approved and study materials sent
Day 10 Site initiation and training
Day 14 Patient entrolled in open trial
"The current clinical trial process is cumbersome and inefficient. As treatments become more molecularly targeted, finding innovative ways to increase participation is key to therapeutic development and ultimately improved patient care. Having a TIME Trial model is visionary and the wave of the future. This model has the potential to bring innovative and novel therapies to a larger percentage of our patients."
Dr. Michael P. Kosty, MD, FACP, FASCO, Director of Thoracic Oncology, Scripps/MD Anderson Cancer Center in La Jolla, CA.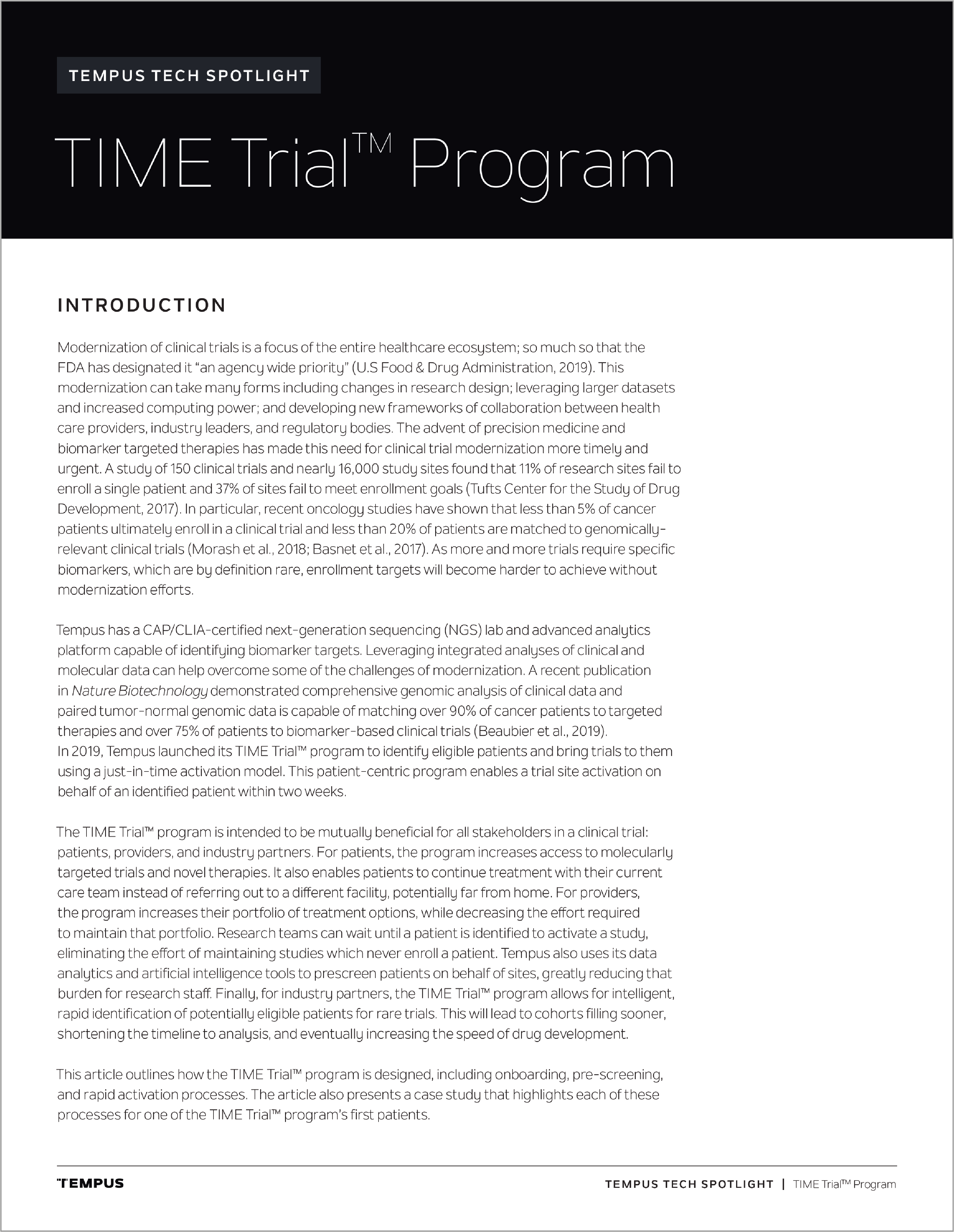 TIME TECH SPOTLIGHT
The TIME Trial Program activates unique clinical trials targeting a range of biomarkers at Institutions across the United States.
Learn more about recent rapid activation success stories in our TIME Tech Spotlight.
Download
Learn more about our rapid site activation technology.